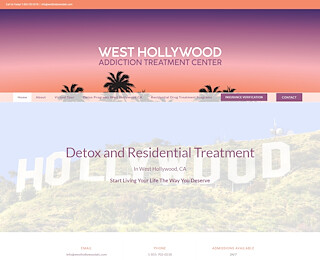 West Hollywood Addiction Treatment Center is a premier inpatient drug rehab in West Hollywood with evidence-based modalities and upscale amenities. We are a highly sought-after rehab for detox and residential treatment with customized treatments, integrative recovery programs, and affordable therapies.
Why inpatient treatment has the lowest relapse rates?
An inpatient program at our Hollywood drug rehab and treatment center can optimize your chances of a successful recovery and help you attain improved physical and mental wellness. Residential treatment offers the highest level of care and provides you with around-the-clock medical support.
While staying at an enclosed and stress-free facility, you will engage in series of treatments and therapies with residential treatment for several hours each day. Inpatient treatment offers an immersive rehab experience and allows patients to heal and recover with peer support. As a leading rehab, we offer the best treatment for heroin addiction in a state-of-the-art facility with a compassionate and dedicated clinical team.
Who is an ideal candidate for inpatient treatment
Anyone battling long-term alcohol or drug abuse disorders is an ideal candidate for residential treatment. It is also a viable treatment option for those who lack a proper support system at home. Our inpatient West Hollywood drug rehabilitation offers a supportive, serene, and stress-free environment for recovering addicts and helps them place their undivided focus on recovery from heroin addiction.
Our treatment approach for sustainable sobriety
Ranked among the top Hollywood drug rehab and nearby alcohol rehabs, we follow an integrative treatment approach and create customized recovery plans to help patients embrace sobriety. With upscale amenities, a breathtaking view, and a hardworking team of clinicians, our patients feel motivated, encouraged, and supported in their journey towards their recovery goals.
Our tailored medical detox and residential treatment programs help patients cope with past trauma and equip them with critical coping skills to combat triggers and cravings. We also use holistic therapies such as nutrition therapy, yoga, meditation, etc., to improve our patients' physical and mental health wellness.
Benefits of inpatient vs. outpatient rehab
Both types of rehab treatments have their own sets of merits. Here are some of the perks of inpatient vs. outpatient rehab:
Residential or inpatient treatment is ideal for those who can take time from work, school, or personal commitments as it requires you to stay in an enclosed rehab facility for 1, 2, or 3 months. Alternative, outpatient rehab allows you to stay in the comforts of your home during treatment, enabling you to maintain everyday responsibilities.
Residential rehabs offer the highest level of addiction care and medical support and hence the lowest relapse rates. On the other hand, outpatient treatment provides the lowest amount of care, support, and structure but offers more independence and flexibility.
Inpatient treatment provides you with a safe, supportive, and relaxing environment, where you can focus on healing and getting better. Outpatient rehab allows you to practice the lessons learned at rehab treatment in everyday situations.
Get in touch with West Hollywood Addiction Treatment Center at 855-969-9234 to verify insurance. We are a top-rated inpatient drug rehab in West Hollywood with several positive reviews, a compassionate clinical team, and the lowest relapse rates. Call us to get started on your journey towards sobriety today!
West Hollywood ATC
855-622-6723
9024 Harratt St.
West Hollywood
CA
90069
US